The time has come for California's new RBS law to come into effect. The problem, most restaurants are not yet compliment with the new law that took effect on July 1st, 2022.  Everyone working in an establishment where alcohol is served must become RBS certified within 60 days of the above date or face potential fines by the state. We break down what this new law means and how you can get your RBS training done today.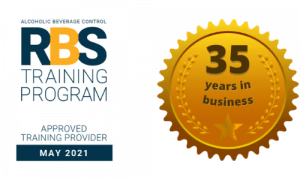 What is RBS
RBS stands for Responsible Beverage Training. It is part of a new law passed in California to help reduce alcohol related incidents. Other states, such as Texas, have seen drastic improvements by implementing mandatory courses like this. This new law was originally passed back in 2018 and was intended to take effect in early 2020 but was pushed back due to the Corona Virus pandemic.
This may seem like one more thing servers and bartenders have to deal with. However, the training is meant to help the workers just as much as the patrons. All staff needs to be aware of how to check I.D.'s, recognizing over consumption, and knowing how to tell people no! It also helps protect staff from any liability and/or future lawsuits. No one wants to deal with those when you are just trying to do your job. The fault should not lay with the server/establishment if someone has an alcohol related incident if responsible measures were taken. Unfortunately, that has happened many times. An RBS training will help protect everyone involved while also making sure everyone knows how to serve responsibly.
When is California's new RBS Law take effect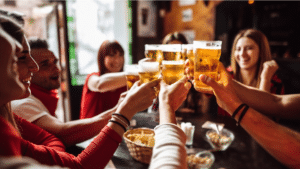 The law has already taken place as of July 1st 2022 and states that everyone involved in the service of alcohol has 60 days to complete a state approved course. In other words, this makes the actual deadline to get certified August 1st 2022. Establishments and their servers can face a fine from the California Alcohol and Beverage Commission (ABC) if not in compliance with this new law. Even worse, establishments that are repeat offenders may face a suspension of their liquor license.  Alcohol is a huge part of sales for everyone in the industry. The state understands that and wants to make sure establishments are still making all those sales but doing it as safely as possible!
How do I get RBS certified
The easiest way to get your RBS training done is to do it online in the comfort of your own home! You can get your online RBS training done here. The course lets you go at your own pace and finish when you are ready. You can take the online course for a laptop or a mobile phone. Total time for the course is just under 2 hours. After you have completed the course, ABC requires everyone take a 50 question multiple choice test. Don't worry! It's not too difficult, especially if you paid attention to your course. *Check back here to this blog for help with some commonly missed test questions.* Once you have completed your course you are all set! You are now RBS certified for 3 years. Congrats.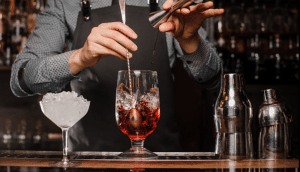 Have a large group of people that need to be trained? Check out our corporate classes by clicking here. We offer bulk discount pricing for large groups to get their course done in person. Register for a group class and one of our trainers will come to you. We will go over the course, commonly asked questions and even go over some exam test prep. Total time for the course is around 2 hours. Afterwards everyone will be able to take their state required exam. Once passed, you are certified and ready to go!
Dont wait to get RBS Certified
Remember, this is now a state law. Everyone must have completed an RBS training course with in 60 days of being hired at an establishment that serves alcohol. Don't procrastinate getting your training done. The law isn't going away any time soon, we are stuck with it. In other words, its required. No one wants to face getting fined while doing their job. Make sure you sign up with Comedy Seller Server to get your training done today. Not only is the training done online and at your own pace, we made it as painless as possible.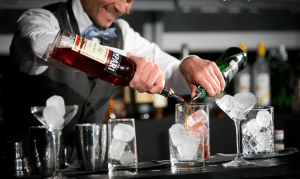 Comedy Seller Server's course was written by real comedians. We know doing a training course on alcohol safety is not how most people want to spend their afternoon, so we made it as painless as possible. On top of the course being easier to digest than your basic training, it has been proven that tying an emotion to learning makes it more memorable. What better emotion than laughter. We want to make sure everyone walks away from our course with a smile on their face and the knowledge of how to responsibly serve alcohol. If you have any more questions about our course or RBS certification you can contact us at 214-310-1075 or at support@comedysellerserver.com.