The 4th of July is just around the corner, and it's time to celebrate the birth of our nation in style! What better way to raise a glass than with a selection of delightful cocktails that will make your taste buds sing? Get ready to ignite your patriotism with these seven mouthwatering drinks that are sure to impress your guests.
Start with a Bang:
Firecracker Margarita Kick off your Independence Day celebration with a bang by savoring a Firecracker Margarita. This explosive blend of tequila, lime juice, and a hint of spicy jalapeno will light up your taste buds with its vibrant flavors. Transitioning from sweet to tangy, this cocktail is a true party pleaser.
2 oz tequila.
1 oz lime juice.
1 oz triple sec.
1 slice of jalapeno.
Salt (for rimming).
Star-Spangled Sangria:
Red, White, and Blue Raise your glass to America's colors with a dazzling Star-Spangled Sangria. This patriotic potion combines fresh blueberries, strawberries, and a splash of white wine, creating a refreshing and vibrant drink that captures the essence of the holiday. Sip on this fruity delight while enjoying the fireworks.
1 bottle of red wine
1 cup blueberries
1 cup strawberries (sliced)
1 cup white cranberry juice
1/4 cup brandy
1/4 cup simple syrup
Soda water (optional)
Liberty Lemonade:
A Zesty Twist Quench your thirst with a Liberty Lemonade, a zesty twist on a classic summer favorite. This invigorating concoction blends freshly squeezed lemon juice, vodka, and a splash of sparkling water, creating a sparkling sensation that will keep you cool on even the hottest July days.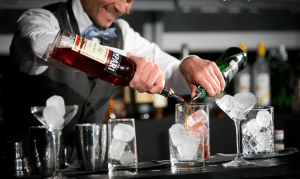 2 oz vodka
1 oz freshly squeezed lemon juice
1 oz simple syrup
Club soda
Lemon slices (for garnish)
Sparkling Rocket Punch:
Bubbly Bliss Add a touch of sparkle to your celebration with a Sparkling Rocket Punch. This effervescent delight combines your choice of fruit punch, a splash of sparkling wine, and a few ice cubes. With every sip, you'll experience a burst of flavor that will light up your taste buds like a fireworks display.
2 cups fruit punch
1 cup sparkling wine
Ice cubes
Uncle Sam's Mojito:
Fresh and Minty Cool off with the refreshing flavors of Uncle Sam's Mojito. This minty marvel combines rum, lime juice, fresh mint leaves, and a hint of cane sugar for a truly refreshing and invigorating experience. Sip on this patriotic potion while watching the parade or lounging by the pool.
2 oz rum
1 oz lime juice
1 oz simple syrup
Fresh mint leaves
Soda water
Freedom Fizz:
A Berry Blast Indulge in the vibrant flavors of Freedom Fizz, a berry-infused delight that captures the essence of summer. This tantalizing mix combines your favorite berries, a splash of vodka, and a touch of soda water to create a fruity explosion of taste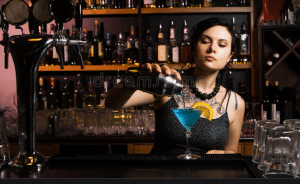 that will have you coming back for more.
1 1/2 oz vodka
Assorted berries (blueberries, raspberries, strawberries)
Soda water
Ice cubes
As you gear up to celebrate the 4th of July, these seven sensational cocktails are guaranteed to make your gathering a hit. Remember to savor responsibly and ensure the safety of yourself and your guests by getting your Responsible Beverage Training online with Comedy Seller Server. So, raise a glass, toast to freedom, and enjoy a memorable holiday with these delicious drinks. Cheers to America's independence and the joyous moments shared with friends and family!