It's time for you as a business owner to protect your business from the legal liability of over-serving and get on top of any alcohol-related liability that you may be open to. The legal consequences can cripple your business at a time when you are trying your best to get everything back on track.
If you think that you are exempt from lawsuits for restaurants & bars, consider the following scenario: one of your managers organizes after-work drinks for all the employees. After the year we've all had, his intentions seem good. It's been a busy weekend night, and the opportunity arises for your staff to let their hair down. 
What starts out as boosting team morale quickly turns into a 'fines evening' as shots of tequila and beer chasers are swiftly consumed. Despite one of your staff's protestations, they give in to peer pressure and the size of the occasion by drinking too much alcohol.  
With inhibitions and common sense now out the window, this employee gets behind the wheel and drives home. The intoxication proves deadly as your employee causes an alcohol-related accident.  
The result is wrongful death and personal injury claims against your establishment. This is dram shop legislation that pays no heed to the demands of the time. This involves unscrupulous legal firms applying the letter of the law and opportunistically preying on any alcohol-related scenario that allows them to point the finger of blame your way. 
Ultimately though, it's also about being on the safe side when it comes to operating as a socially responsible citizen with your wider community's best interests at heart.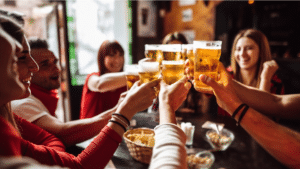 Comedy Seller Server Can Help
Protect your business from the legal liability of overserving by ensuring that your staff is all safe serve certified. Comedy Seller Server goes out of its way to keep the restaurant and alcohol industry abreast of what is happening in the world of lawsuits for restaurants & bars. 
That scenario we asked you to picture is actually a very real-life, very recent example of how even the best intentions can lead to fatal consequences. The responsibility of serving alcohol is something that needs to be impressed upon by all waitrons and bar staff across the country. 
The Dram Shop Act affords 'safe harbor' to those establishments and employees who have safe serving certification. This is quite simply the only way to protect your business from the legal liability of overserving. 
With us, safe serve certification isn't expensive, and it doesn't require a lot of time. What it does do is give you peace of mind that in the event of any alcohol-related mishap coming back to haunt you, you're legally protected. 
The added bonus is that your staff are likely to act more prudently when celebrations get a little out of hand. The certification is also valid for two years, allowing you to focus on generating income for your business without the worry of what happens to your patrons when they walk out the door. 
Choosing Comedy Seller Server for your safe serve certification is surely the smartest way to keep your staff educated, your customers safe and happy, and your business protected.