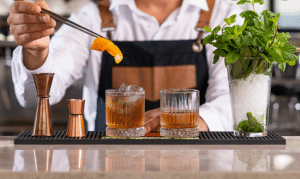 Succeeding in your job as a bartender will naturally require some training. So whether you're a seasoned bartender or just starting out, aside from your excellent serving skills, you need to consider getting certified as well.
However, when you look into the details required to get a bartending & serving certification, it can get confusing. You may be thinking about whether a bartending certificate is needed or not. We're here to help answer this important question. 
So Do You Need Certification or Not?
A bartender certification for the responsible serving of alcohol is a document given to professionals who complete an approved course covering these topics. Do you need this certification to become a bartender? The short answer is no; you don't need one. However, if you go over the nitty-gritty details for various states, you'll be convinced that you should get a certification after all.
There is no nationally recognized certification, and each state will have a different set of requirements. There are local alcohol laws that require licenses and certifications or at least online bartending certs. However, some cities or states don't need them. So, it may differ from place to place.
However, it will still be a good idea to get your online bartending and serving certificate, because the bars and restaurants you'll be applying for a bartending job would likely ask for one. It offers protection for you as a professional and the bar as a legal establishment.
Do you need help figuring out the requirements in your city? Our industry experts at Comedy Seller Server can help you get the necessary information and requirements to get you started if you call today. Through our courses, you'll learn how to serve alcohol responsibly. In addition, we provide a fun and friendly learning atmosphere with our unique spirits education programs.
Bartending Certification
With a bartender certification becoming mandatory in some states, many establishments will require you to have a bartending & serving certification before becoming a bartender.
You can get online bartending certs or attend a live class to gain your certification. As a part of the training, you will also need to do coursework on responsible serving and become familiar with local liquor laws.
During the program, you'll learn valuable topics like:
Customer service skills

Techniques for identifying a minor

Techniques for identifying signs of intoxication

Techniques for checking a person's identification
By completing your online bartending certs, you're gaining the additional credentials to serve your customers responsibly and uphold the reputation of the establishment you're working for. 
Serious Certification Done The Fun Way
Many bartender certification programs out there are boring and involve reading a ton of text, which will make you fall asleep faster than learning anything. At Comedy Seller Server, we take your learning experience to a different level. Our state-approved bartending & serving certification is enhanced with laughter, fun, and a friendly learning atmosphere. Learn how to enroll today in our spirits education programs. Contact us to learn more about getting your bartending certification.